8 Burger Recipes to Sizzle Up Your Summer Cookout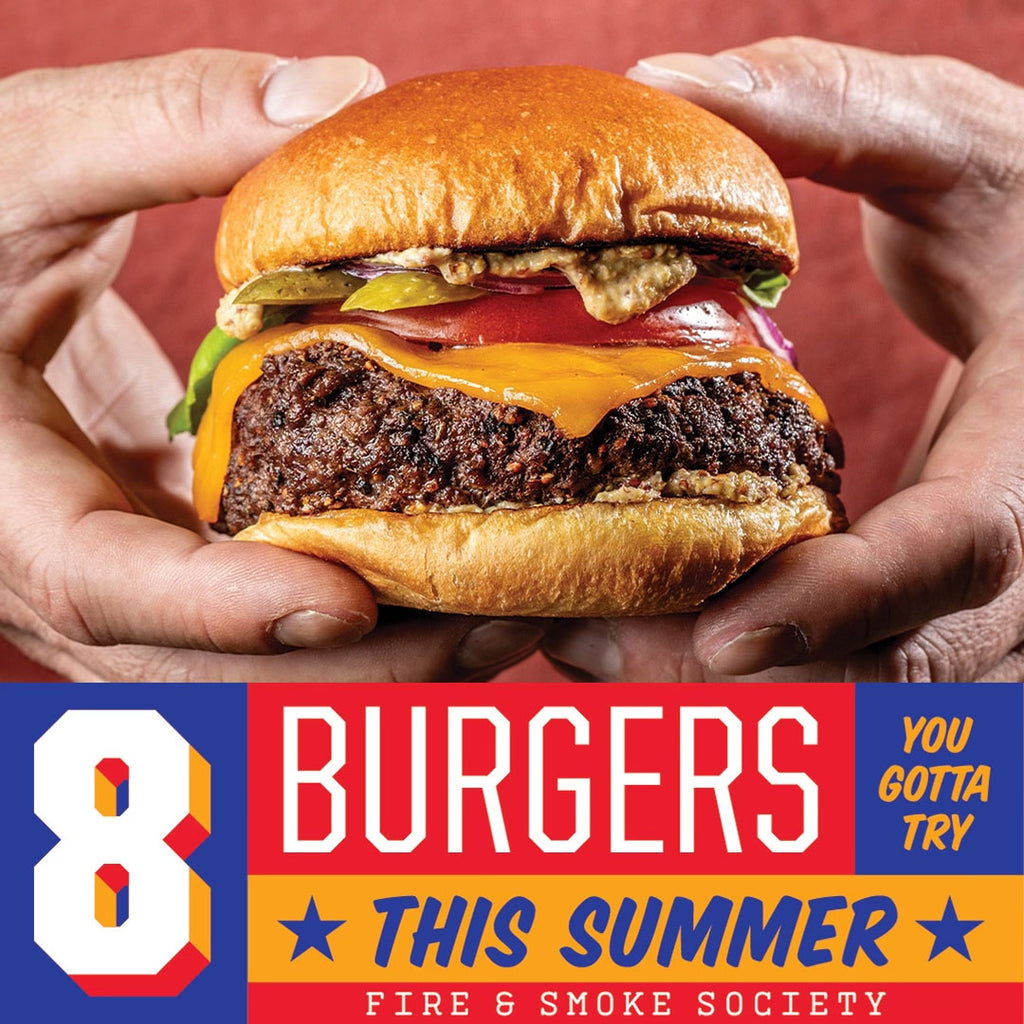 We've just sailed past the summer solstice which means—BOOM—it's peak summer and full-on burger season. Not that we need a reason, or perfect temperature, to hear patties sizzling on the grill. But, there's no doubt that lazy summer evenings, post-swim appetites, holiday weekends, and yard darts set the stage for a fat, juicy burger (just add potato chips, watermelon, cold beer, and all your favorite toppings).
Then comes the tough choice of picking your patty, based on your guest list and current craving. Worry not, friend, we've got your burger bases covered.
Featuring: Burger Royale
For starters, our hearts race for cheap and dirty griddled Smashburgers, seasoned with Burger Royale and topped with American cheese. (They go down easy; make plenty).
For obvious reasons, smashburgers need to be cooked on a flat surface, so you can flatten them with a large spatula. If your grill doesn't have a griddle attachment, simply cook the burgers on a large cast iron skillet over direct heat.
These thin patties cook quickly, so it'd be wise to have the buns and toppings ready to go before they begin to sizzle.
---
Featuring: Black and Tan
The key to creating a perfect patty? Optimizing its rich beefy flavor, of course. 
Which is exactly why we've created a burger consisting of a ground brisket blend to ensure its thick and juicy texture, but don't fret, the fun doesn't stop there. 
We're all aware that the toppings are just as important as the star of the show, so what better sidekick to accompany this type of beefy blend than blue cheese AND bacon? 
If you're really wanting to go above and beyond, pair this with F&S Original BBQ Sauce 😉
---
Featuring: Sweet Preacher
Sweet Preacher fans will adore Sweet & Spicy Bacon Burgers with sautéed onions and pickled banana peppers. Patties made from a mix of ground pork and bacon get a touch of sweetness from our best-selling blend, made with molasses and brown sugar.
Starting the burgers directly over the coals creates a nicely browned exterior. Finishing the patties over indirect heat allows the bacon to render and the pork cook through at a gentler heat, resulting in a spectacularly juicy burger. Topped with a pile of sauteed hot peppers and onions, and served on a toasted bun slathered with mayo, this burger will steal the show at half time–or any night of the week.
---
Featuring: Onion Butter
Did you know? Oklahoma is also known as the "Onion State," and the love affair with this humble vegetable is deeply rooted in Oklahoma's history. 
Well now you do, and in this recipe, we pay homage to Oklahoma's love for onions by pairing it with the indulgent richness of our very own Onion Butter blend. 
The heaping amount of thinly sliced caramelized onions melded with the ground beef mixture creates what we believe to be the epitome of culinary alchemy. 
Note: Using a Japanese mandoline will speed up the slicing process and achieve the best results!
---
Featuring: Back Porch Burger
Chill a bottle of rosé for these juicy, flavorful Turkey Burgers seasoned with Back Porch Burger Blend (think toasted onions and herbs).
For the juiciest burgers, you'll want to use ground turkey thighs (not breast meat) for its higher fat content. Feel free to swap in your favorite sliced cheese (e.g. use Pepper Jack if you want a hit of heat). Between the buns, add a slather of lemon mayo, provolone, and peppery arugula (and place on repeat every week). Thin slices of ripe tomatoes and shaved red onion would also make excellent additions.
(Pssst: Leftover lemon mayo makes delicious egg or tuna salad.)
---
Featuring: The Go-To
Bacon jam makes for a bangin' burger. There's no denying that, but layering it? Now THAT is an entirely different ballgame. We're talking tiers of succulent beef, oozing warm cheese, and a heavenly bacon jam right at the heart of it all. 
This recipe may take a bit of trial and error to perfect, but the end result won't let you down, so if you're feeling up for a challenge, this one's for you.
---
Featuring: Thundering Longhorn
Let's bring it back to the basics, shall we? While we love to play around with the endless possibilities of burger construction, we know the fundamentals are non-negotiable.
That being said, here's a burger you should learn to master before anything else.
Important Note: Shop for freshly ground beef and avoid any frozen pre-packaged pucks in the grocery store to ensure a juicy bite and fresh taste.
---
Featuring: Holy Garlic
Don't be afraid to serve this seductive Holy Garlic Burger on date night. Just saying.
A few easy steps elevate grilled beef patties from great, to Holy Garlic! First, the outside of the burgers are generously seasoned in Holy Garlic (think garlic salt, with a lot more depth and dazzle).
To echo that lusty flavor, whisk together a quick aioli, or garlic mayonnaise, spiked with lemon zest and black pepper. The rest of the burger can come together as you please, but you can't go wrong with toasted buns, lettuce (or your favorite greens), and crisp, tangy pickles or pickled peppers.
---
Featuring: Burger Royale and F&S Original BBQ Sauce
These burger bombs are a viral sensation that caught our eye by essentially being hand-pies. They're perfect for picky eaters, easy-to-assemble and entirely customizable.
This flaky pastry shell is stuffed with seasoned ground beef, crispy bacon, melted cheese and will satisfy all cravings instantly.
While the recipe makes a total of nine bombs, you'll definitely want to double it.
Keep sizzling. 
---