Pride of the Southwest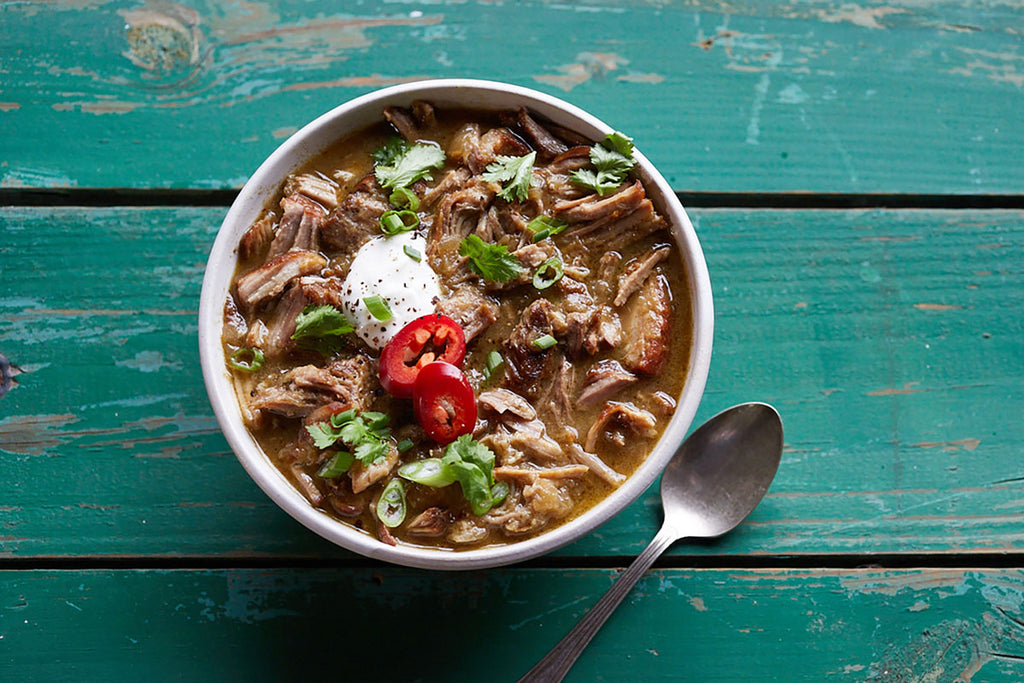 Hatch chiles and a fragrant blend of spices create a bright, tangy green chili that's delicious with chicken, turkey, or pork.
Recipe
Shopping List
1 rotisserie chicken
1 onion, chopped
One 4 oz can green chiles (hot or mild)
One 32 oz box low-sodium chicken broth
One 15 oz can white beans (cannellini or great northern)
Toppings: sour cream, fresh cilantro, lime, sliced jalapeños, etc.
Directions
Remove the meat from the chicken and lightly shred.
Heat 1 tbsp of oil in a heavy saucepan over medium-high heat. Add the onion and sauté for 3-4 minutes. Add the chicken, green chiles, and chili seasoning and sauté until ingredients are coated with spices.
Add the broth and 1 cup of water and bring the mixture to a boil, then reduce heat and simmer for 20-25 minutes, until the chicken is very tender. Add the drained beans and simmer for 5 more minutes.
Serve with your favorite toppings.
Make it Tastier: Add chopped carrots to the onions.
Beyond the Bowl
Tangy Chili Verde is also a great topping for eggs and tortillas, creamy grits, and potatoes (hash browns, tots, roasted new potatoes, or baked russets).
Check out our recipe for Slow-Cooked Pork Chili Verde!
---