A Better Bowl of Red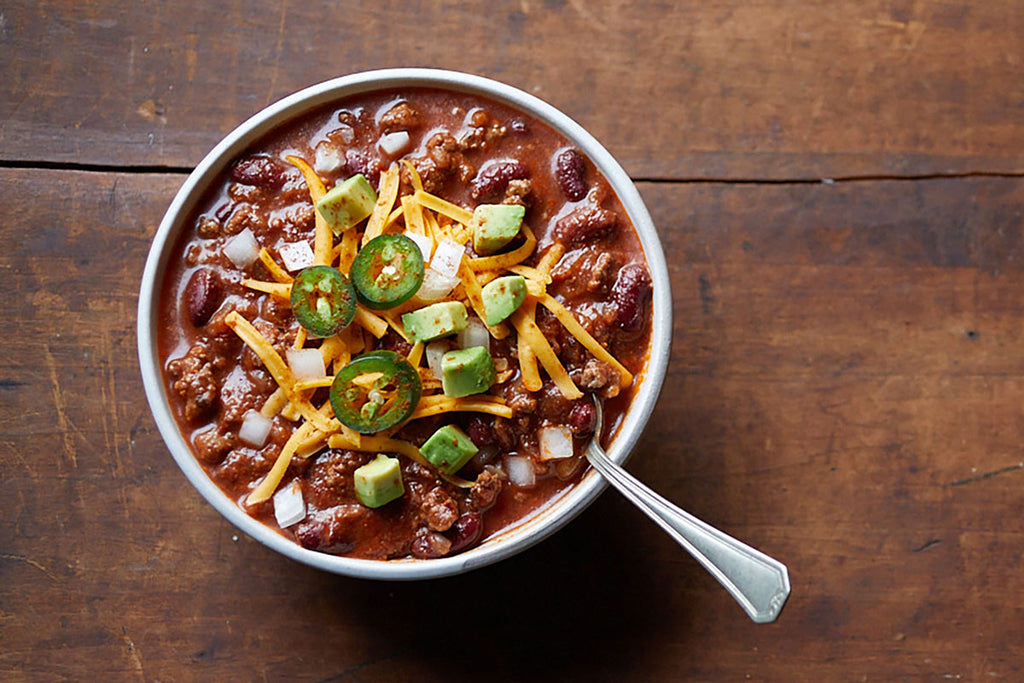 Is it possible to create the rich, satisfying flavors of long-simmered chili in a flash? Yep. That's because our Homestyle Chili recipe mix is made with robust interior Mexican spices, including pure ground chiles, cumin, Mexican oregano, cocoa, and a touch of cinnamon.
The potent blend seasons 2 pounds of your favorite ground meat (beef, chicken, turkey). After a quick saute, you'll add tomatoes, broth or water, and enjoy the transporting aromas for 30 minutes. Just enough time to prepare your favorite toppings.
Recipe
Shopping List
2 lbs ground meat (e.g. beef, chicken, or turkey)
1 large onion
One 28 oz can crushed tomatoes
1 cup low-sodium broth (chicken or beef) or water
One 15 oz can beans (kidney, pinto, or black)
Toppings: chopped onion, shredded cheese, corn chips, sliced jalapeños, sour cream, etc.
Directions
Heat 1 tbsp of vegetable oil in a heavy saucepan over medium-high heat. Add the onion and sauté for 3-4 minutes. Add the ground meat and cook, stirring, until no longer pink. Drain excess oil if desired.
Add the chili seasoning mix and sauté until meat is coated with spices. Add the crushed tomatoes and cup of broth or water and bring the mixture to a boil. Reduce heat and simmer, partially covered, for 20-25 minutes, stirring occasionally. Add the drained beans during the last 5 minutes of cooking.
Serve with your favorite toppings.
Make it Tastier: Add chopped carrots or bell peppers when you add the meat.
Beyond the Bowl
Use our Homestyle Chili recipe to prepare: Fritos Pie, Walking Tacos, Queso con Carne, and Loaded Potatoes.
---